the insight
Latest from the blog
Categories
Recent Articles
Search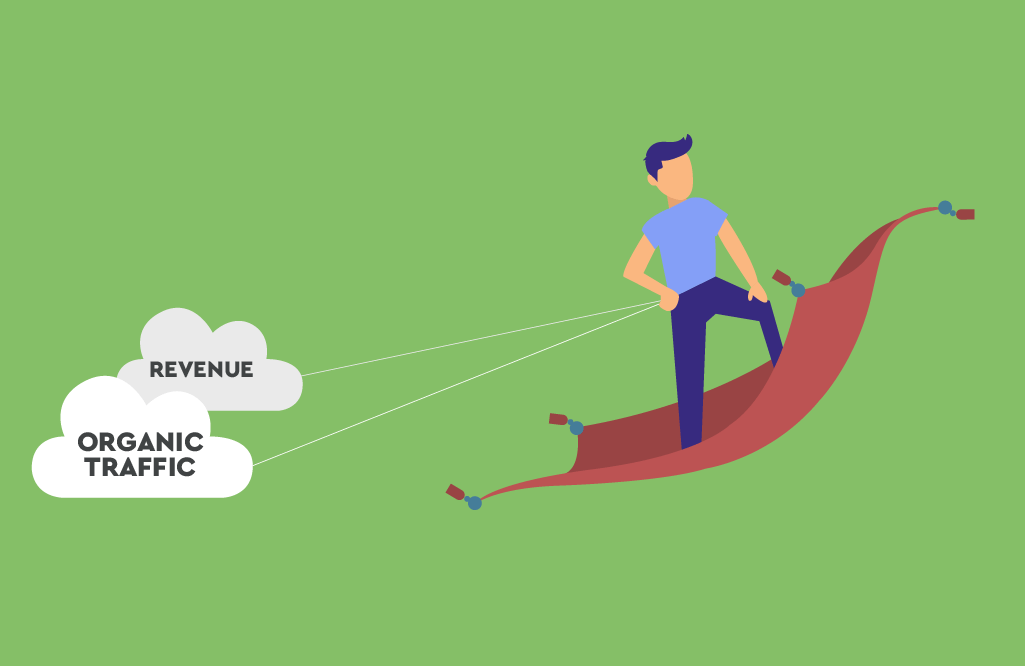 What kind of promises are you getting from your SEO services provider? Are they claiming to be able to bring relevant traffic to your site, improve your conversion rates and revenue, or are they just limiting themselves to improving your rankings for keywords they will choose themselves?
As much as we would like to condemn that way of thinking, we can't really blame providers who are not confident enough to make precise revenue related predictions – but we will also never side with those who think their responsibility stops the second they create a link for you.
To show you these aren't just empty words and that we can proudly stand behind our work, but much more importantly, to show everyone thinking of possibly hiring a full-stack digital marketing agency what exactly is it that they are entitled to expect; we have condensed our campaign for an Australian eCommerce business into a case study that we would like to share with you. While the study will give you a detailed overview of the general strategy we used to improve the client's organic traffic, conversion rates and revenue; we also wanted to elaborate on specific tactics themselves, and that is the point of this post.
In other words, if you want to do SEO for yourself or for a client, or want to see the results you can expect from those doing SEO for you, you can use our case study to see WHAT can be done, while you can use this post to see HOW it should be done.        
Onboarding – the most important part of customer journey
In order to be able to provide your client with a comprehensive service, one that will ensure that all the exposure in organic search that you've secured is not going to waste, you need to establish straightforward communication with them. This means being honest about what you might be able to do for them, as well as what it might cost them if the entire plan doesn't work out quite as you've imagined.
It's not always easy to form that kind of collaboration. Your client needs to be either well-versed in SEO, at least enough to know that results take time and that nothing is certain, or they need to trust that you know what you are doing and that you have their best interests at heart.
Unless you have a client who will understand why your onsite and link building efforts are still not bringing obvious benefits even months after they've been concluded, we can't blame you for playing it safe and only promising what you know you can deliver; however, if someone is willing to lend you their trust and provide you with all the info you need to do your job correctly, there is so much more that you could do for them.
Aside from listening, the client has to be willing to talk as well. When you have the chance, before even beginning to draft a strategy, you should learn all that there is about their business, their target audience, plans for future expansion, their current competitors, the market they operate in, their budget constraints, metrics they want to focus on, and their ultimate ambition.
Once you gather this information and perform an initial audit of their existing online assets, you can determine if you might be able to do more for them than just get them to rank better for a couple of keywords. Here's all you need to ensure that your client actually prospers after working with you.
Find out who your client is competing against
One of the main parts of the onboarding process of a new client is getting them to list the sites/companies they consider major competitors – both similar in size and scope, and those far larger and more successful. Naturally, as important as client feedback is, in this stage of the process or any other, it should never account for 100% of info you are in disposal of.
Once they provide their list, you should start compiling one on your own. Start from the immediate competitors, i.e. those similar to your client in every possible regard – size, region serviced, prices, subset of the audience being catered to, product or services range, etc.
Chances are, exploring the smaller competitors is going to lead you to all the major ones as well – to brands dominating the market you are trying to penetrate. While you may not have the required budget, infrastructure and connections to emulate their strategies, learning from someone who has invested a lot of time and money into formulating their online promotion strategy can only do you good, as long as you stay aware of your limitations.
Regardless of their size, there's a lot to learn from each of your, at least relatively successful competitors. Some of the most important areas to pay attention to include:
Their backlinks

– the basic step in competitor analysis, sometimes the only, going through a competitor's backlink portfolio can reveal a wealth of useful information.





If you are using a tool like Ahrefs to extract their links, we recommend not going into the filtering and selection phase until you've gathered all the backlinks from all the competitors you want to analyze. Even a smaller competitor could have upwards of thousands of links, and a lot of them are shared between them and other competitors. In theory, this means that you could run into the same website 10 times if analyzing 10 different competitors, and each time, you'd waste time on dismissing it or making a note of it.





That's why, if you are planning a large-scale analysis, placing all the links in one sheet, removing the duplicates, and using that list for the rest of the process is usually the best idea. The list can later be sorted according to the DR or the sites, you can filter it to remove TLDs that you have no interest in, remove all the sites mentioning bookmarks, or declaring themselves as article directories, etc. In other words, you could get a list of select, ratified prospects just waiting for your outreach.

Their site

– this goes for anything, the site's design, e-cart solutions, their tone of voice, topics they are covering, their prices and offer, etc. Competitor websites are invaluable in helping you determine how the audience you are trying to reach might react to a change you are thinking about introducing. Their comments on your competitor's blog might give you insight into what you should or shouldn't write about. Naturally, there's no reason not to extend this research to include their social media accounts as well, time allowing.

Their keywords

– if you're after relevant organic traffic, choosing the right keywords is of paramount importance. Deciding if a high-volume keyword with a lot of competition is worth pursuing would, ideally, be done in concert with the client, but more often than not, these potentially risky choices will have to be made by you and you alone. Examining just how much time and work a particular competitor has invested in ranking for a keyword is bound to give you an idea of how realistic pursuing it would be for you.  
Decide on a set of keywords
Those keywords you've extracted from the competitor analysis are a good starting point, but they are by no means enough to inform the rest your campaign. While it is important to identify the main phrases and words targeted by your competitors, that is just the beginning.
The most challenging (and interesting) part of a detailed keyword research is finding relevant keyword variations that are not difficult to rank for, but which have a decent search volume and which are likely to attract the exact type of people you are after.
This is where a lot of agencies try to take the easy way out and simply rank their clients for easy-to-secure longtail combinations with only a slight relation to the client's business and goals.  
This is also one of the prime examples of why focusing on rankings as the sole indicator of the success of an SEO campaign can leave the client at a serious disadvantage. If the agency taking care of your search engine optimization focuses exclusively on easy-to-rank-for long-tail keywords, it won't be difficult for them to reach page one, but the actual benefits of getting there, like an increase in traffic, client base or revenue, will be miniscule to non-existent.
On the other hand, if you hire a reputable provider, with enough integrity and experience to go after much more demanding (and popular) keywords, they don't have to earn you a spot in the top 10 results right away, but their efforts could still significantly improve the metrics that you really care about. In other words, if you zero in on the wrong set of keywords from the very start, all your subsequent promotional efforts might be completely wasted.
At this stage, we also start with keyword mapping – i.e. deciding which pages will focus on which sets of keywords, sometimes building new pages specifically to target high-value keywords, at other times pursuing keywords we might otherwise ignore, just because it so happens that the client already has a page which could easily rank for them.
Existing assets audit and initial setup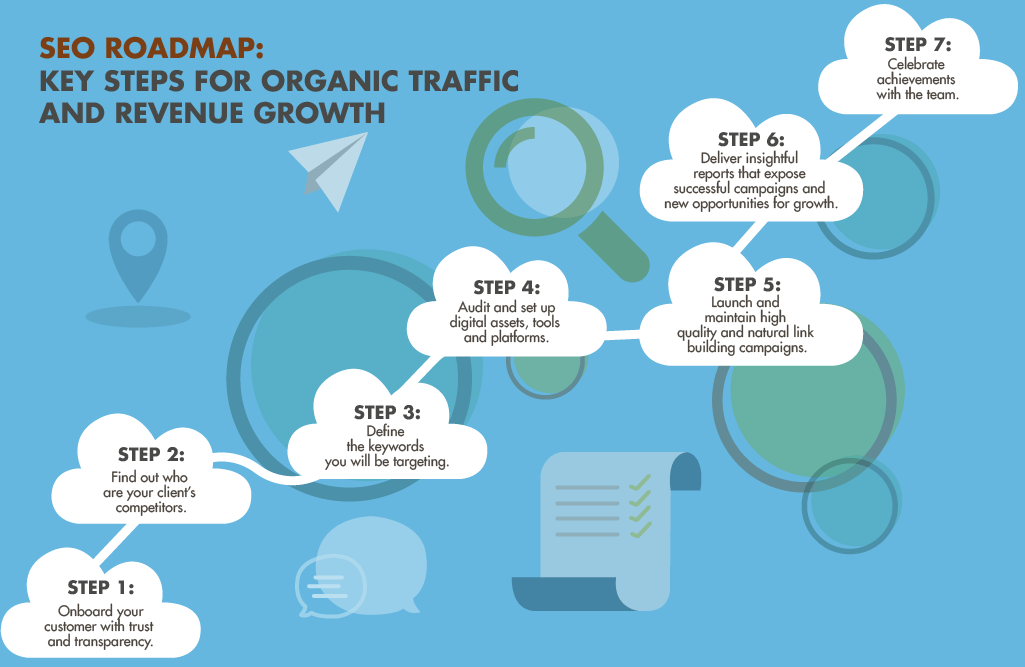 Once you know what your client's goals are, it's time to take stock of their current state and identify their strengths and weaknesses. Each client is different, some will have amazing content but terrible site design, others a strong social media following, but no lead generation mechanism, etc. The purpose of the initial setup is to ensure the highest possible growth potential for their site by taking care of fundamentals like:
Onsite optimization

– Ensuring that crawlers can easily find and navigate your website; that your meta tags are indicative of the page's content and that they encourage click-throughs; that there are no 404s, sluggish pages or dysfunctional forms, etc.

Content gaps and existing content audit

– During the competitor analysis, did you notice topics that your competitors are covering, but you didn't even mention? When researching your client's audience's habits on social media and forums, did you see them frequently asking questions that your site should be providing the answers for, but isn't?





After carefully analyzing the client's existing content, you should decide what to completely remove, what can be repurposed or spruced up, and

which topics

they need to start paying attention to if they want to keep the interest of their audience and peers.   

Landing pages and GA goals setup

– Again, some SEOs don't consider conversions optimization to be a part of their job, and that is perfectly fair as long as they are forthcoming about that. However, those who are willing to help customers track how their organic search campaign is affecting the rest of the funnel are in an ideal position to explain the reasoning behind their decisions and ensure that the client can actually reap the benefits of improved rankings.





Optimizing your client's landing pages to guide site visitors towards the desired outcomes, and tracking the behavior of those visitors through meticulously set up

goals in Google Analytics

means that you will, in time, be able to actually show the results of your work to your client in much more detail and with much more accuracy than is typically possible in SEO without this kind of analysis.  
Link building – proven way to increase your search rankings
Once the client's site is as recommendable as possible and you have a keyword strategy and an editorial calendar for several months in, it might be time to start thinking about spreading the word about the client. Naturally, just because you've reached this point in the campaign, you are not forever done with audits, keyword and competitor research, etc. However, while you still need to keep an eye on your assets and make modifications when necessary, now your focus needs to turn outwards, to all those blogs, directories, magazines, industry hubs, and other platforms capable of exposing you to relevant audiences and lending you some of their authority.

When done with at least a modicum of integrity, link building is just as 'manipulative' or 'unnatural' as trying to get the name of your business into a phonebook, or making a TV ad. This means that links you create for your client have to not only meet certain quality standards, but also have to make sense in terms of relevance, their actual usefulness in the context, anchors you use to describe their destination, etc.
However, the stigma that some associate with link building is not the only misconception about it. Across numerous algorithm changes and attempts to manipulate the said algorithm, so much has been speculated on the topic of links that even though you as an SEO probably have a decent idea of what makes a link suspicious or amazingly useful your client could have a completely different idea.
Let's take business directories as an example. If your client is running a locally oriented business, you know that they could only stand to benefit from you building a moderate number of high-quality local directory links for them. They get their NAP out there, get co-citations with other local businesses, making it easier for Google to recognize them as entities, and generally, gain a lot for a minor investment.
However, depending on the most persuasive article on the subject that your client has read (which may have even been true at the time of publishing) they might either be of the opinion that you should completely abstain from making links of this type, considering them instant reputation suicide; or they might be of the opposite persuasion – that you should be creating 10 directory links per week, from now till the end of time.
This is why link building is only effective when the client has absolute trust in your expertise and in your intentions, as it is only then that they'll be ready to understand your explanation how 'more' is not always better, and how 'none' is not always safe. That trust is achieved through transparent reporting, and of course, consistent exemplary performance, but even in the most ideal of conditions, it might take some time to truly take hold.  
Results of successful strategy execution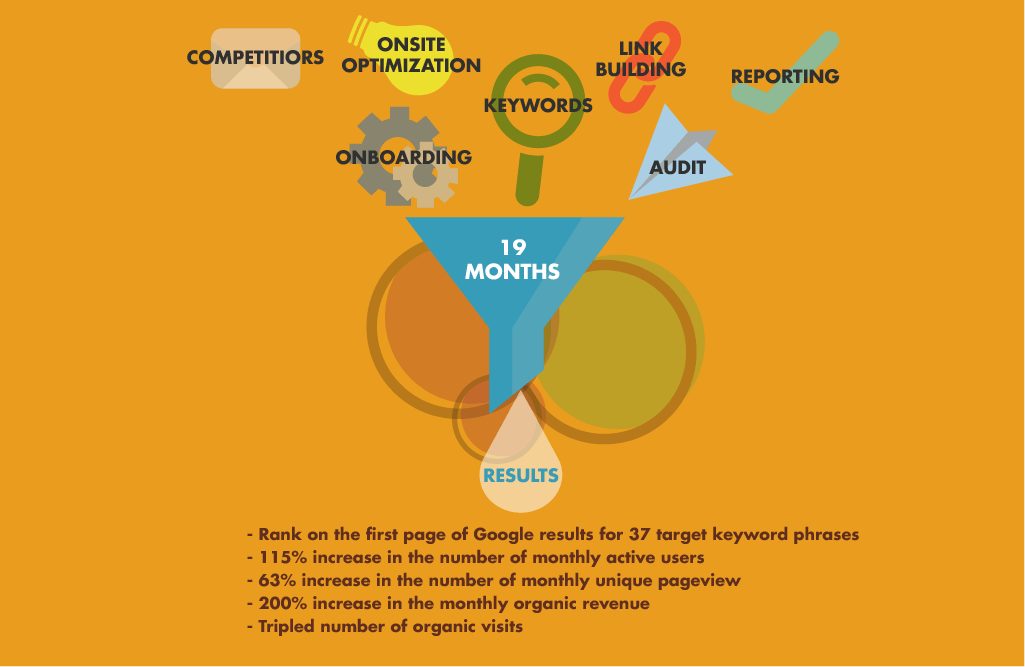 Once you have their trust, you can do amazing things for your client. By sticking to the methods and principles listed above, we have managed to help our client out of complete obscurity in just 19 months, getting their freshly built website to:
Rank on

the first page of Google results for 37 target keyword phrases

, and on the

second for 34 targeted terms

Mostly attract the relevant audience, i.e. those from the region the client is servicing

Engage the audience with increasing intensity, evidenced by improvements in the recorded number of pages per visit and total time on page, and in the consistent decrease of bounce rates

To

triple the number of organic visits

(benchmarked from several months into the campaign)

Record a

115% increase in the number of monthly active users

and a

63% increase in the number of monthly unique pageviews

Start earning significantly more from this channel, with a

200% increase in the monthly organic revenue
If you want to emulate our methods for someone you are promoting, or want to learn what you might be able to gain by hiring someone to promote you – you can download the case study detailing this process as soon as you complete a short eCommerce survey meant to help us identify the main issues e-store owners are facing in their marketing efforts.
If you, however, think it would be easier to simply hire us to do the same for you, or just want a free consultation or a website audit and advice regarding the steps you could take to improve your online exposure, you can contact us here and schedule an appointment with one of our experts.