the insight
Latest from the blog
Categories
Recent Articles
Search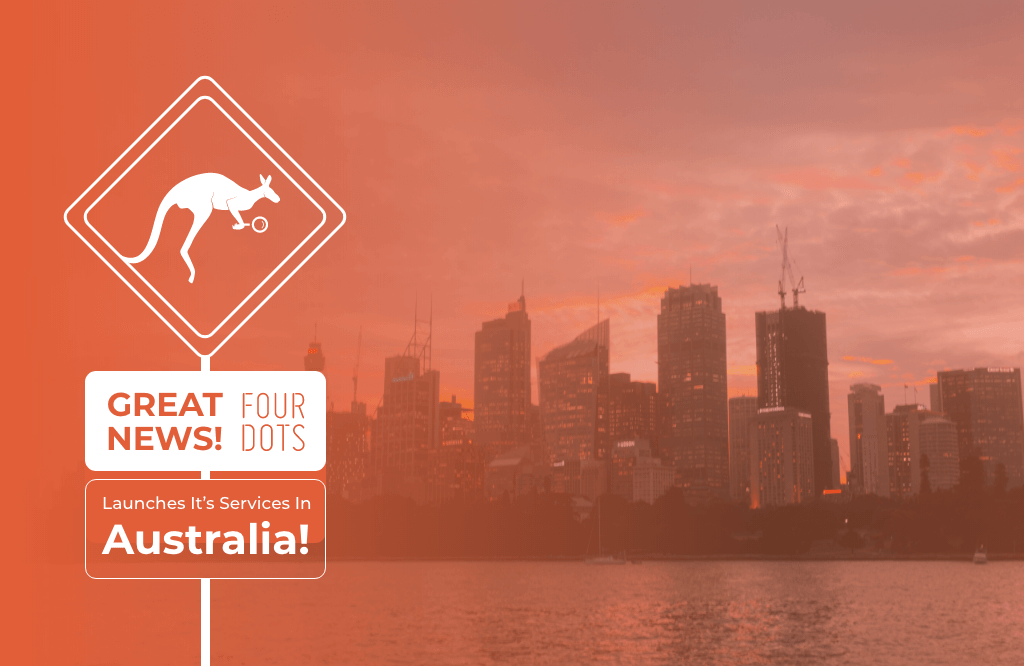 We have some excellent news for Aussie businesses and websites that are looking for experienced digital marketing experts to help them dominate the online world! Four Dots is a Digital Marketing Agency with decade-long experience, has finally rolled out "Four Dots Australia." Our Digital Marketing agency is now officially offering the following services across the Australian market:
Online Reputation Management (ORM)
Content Marketing
Link Building
…and other related services that can help you quickly beat your direct competitors. 
Our main objective is to help local businesses of all shapes and sizes improve their online visibility, be more visible to their ideal target audience, and grow their company with the help of our custom-tailored marketing strategies and solutions. 
Some of our most successful clients include Coca-Cola, Philip Morris International, IQOS, Orange, Beko, Crucial, MissAmara, Buro, Domain.me, MobileShop.eu, Gulf Coast Cash Relief, etc. 
Why Australia and Why Now?
Since Four Dots already has offices and clients across the globe – in New York, Hong Kong, and Serbia (Belgrade and Novi Sad) – tackling the Australian digital market and establishing physical headquarters in Sydney was the next logical step. With over 10 years of successfully providing services to hundreds of worldwide clients, we decided to provide this vast and fruitful market with our expertise, as there's an evident shortage of digital marketing agencies with experienced SEO and PPC specialists. 
Our experts can help you develop highly effective and data-driven digital marketing strategies, designed specifically for your unique needs, wants and goals. Our expert-level digital marketing services and plans are available at affordable rates to our Aussie customers, which is something that most of our competitors often neglect. The right balance between top-tier service and reasonable prices is something we have always been striving for. 
Who Is Four Dots Australia?
Four Dots Australia consists of numerous accomplished and highly experienced marketers with over 10 years of experience. Four Dots Australia core team includes:
Radomir Basta – CEO
Milica Dobrenov – COO
Natasa Bajic – CIO
Harry James – CMO
Radomir Basta is one of the founders of Four Dots. Radomir, Milica and Natasa have been helping hundreds of worldwide clients reach their business goals, while Rad is also the mastermind behind several successful SaaS-based marketing tools developed by our company:
Reportz – A highly functional software for automated reporting and data-tracking.
Dibz – An extremely effective link building tool for automated link scraping and prospecting.
Base – A great tool (Chrome Extension included) for streamlined link management and link building.
Trustmaker – A great social proof tool that can boost your sales and conversions with minimal effort on your part. 
Kraken Box (currently in development) – a robust and all-in-one SEO platform consisting of 4 stand-alone tools. 
Radomir and Four Dots are always striving to provide cost-effective digital marketing strategies to our clients, but giving back to the SEO community is also something that we find extremely useful and fulfilling. This is why Rad decided to share his SEO know-how with other people interested in our industry and has published a book titled "The Good Book of SEO." This guide provides insight into the basics of Search Engine Optimization and gives actionable advice to both SEO professionals and those who are just starting out. 
A Brand New Four Dots Team Reinforcement
Four Dots Australia is also proud to present its new CMO, Harry James. Much like the FD core team members, Harry is also a highly accomplished and experienced marketer. He has been focusing his digital marketing efforts on helping small Australia-based businesses gain visibility, build user bases, but also scale and grow. Harry has thousands of digital marketing campaigns in his pocket and has led a team of 75+ SEO Consultants, Paid Media Consultants and vendors. 
He's been executing successful campaigns for every niche and vertical across Australia, the US, Singapore and UK, so we know Harry will be among the key members of the Four Dots Australia core team. He has worked for numerous acclaimed companies, including Elevate 360 (Operations Manager), Crucial Cloud Hosting (Business Development Manager), Chargebar (Operations Manager), Online Marketing Gurus where he was COO and oversaw numerous agency operations (from Consulting to Delivery teams), providing frameworks and systems to enable all parts of the business to operate as one scalable unit.  
Why Our Unique Approach is Our Competitive Edge 
Four Dots Australia has a goal-driven mindset combined with a scalable and budget-friendly approach to pricing. All our specialists are experienced and feature top-tier skill sets, but we do not believe in a strictly corporate working environment. We think it is often overly unpragmatic, which is why we try to take the best of both worlds and always make sure our client's goals are achieved in accordance with the highest industry standards when it comes to service quality. 
We approach every issue from several different angles and come up with optimal solutions in the way that is most beneficial for their client – even if it means our teams will have to burn the midnight oil. We have always been capable of developing complete and all-encompassing strategies for both large and small businesses. Given the experience, our experts are very accurate in campaign assessment and will only accept the projects we are certain can be done to the customer's fullest satisfaction.
Let Us Help You!
Four Dots Australia combines competitive prices with premium digital marketing services. We are here to help young Aussie businesses get off to a great start once the rubber hits the road, while we can also assist accomplished companies course-correct their failed marketing campaigns and reach the success they deserve. 
Four Dots Australia is the latest addition to the Four Dots family and it marks their newest effort to get close to their respective clients as much as possible in order to better understand the market their client intends to target.