the insight
Latest from the blog
Categories
Recent Articles
Search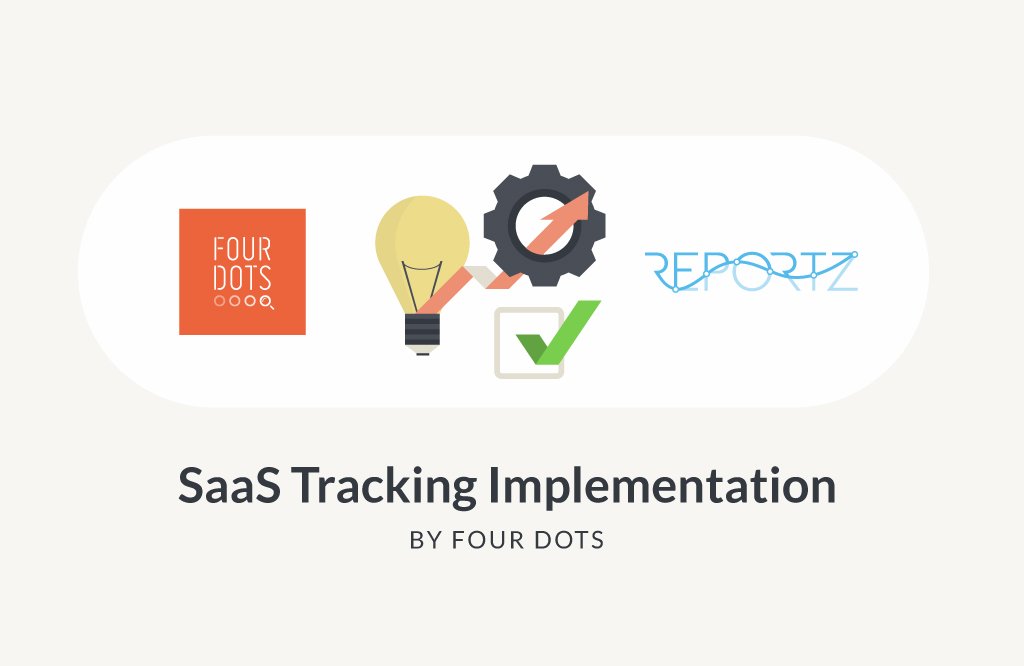 Designing, developing and releasing a SaaS solution is a fun endeavour that teaches you a lot. All teams and team members join forces to achieve a mutual goal, involving both positive and negative experiences along the way, and the best part is – the project is not over once your SaaS product has been successfully launched.  
In order for the product to hit the ground running and gains traction fairly quickly, you need to learn how your solution can reach as many potential users as possible, without spending too many resources on marketing campaigns. This task can actually be achieved in an organic manner through a data-driven advanced tracking process capable of boosting the success of your SaaS product through increased Conversion Rate and ROI.     
This is a detailed, data-packed and transparent case study where we dive deeper into all the main aspects of this process – including goals, challenges, approach, and results – and explain how we helped the SaaS-based reporting platform Reportz beat all the challenges and acquire thousands of new users soon after its initial launch.  
But before we do just that, a word or two about the two entities involved. 
About Reportz:
Reportz is a dashboard-based, reporting and data tracking tool that helps companies automate the time-consuming process of client reporting. Reportz users are able to assemble informative, live, KPI-packed but concise reports containing fully customizable dashboards and widgets.
About Four Dots:
Four Dots is a Digital Marketing Agency with more than 60 specialists located in New York, Belgrade (Serbia), Sydney, and Hong Kong. The company provides SEO, PPC, and Analytics Services and specializes in Advanced Tracking, Analytics & Reporting Solutions for SaaS Products. 
Tracking & Analytics Challenges
Spending resources on advertising campaigns without adequate Conversion Tracking

GA implementation by copy/pasting code without advanced in-app and website behaviour tracking

Making strategic decisions based on vanity metrics instead of data-driven insights 

Tracking and calculating SaaS KPIs 

There was no adequate channel/campaign attribution for identifying top-performing channels/campaigns

Tracking a complete user journey 

Subpar efforts towards CRO (Conversion Rate Optimization) and UX website improvements via A/B Testing

Email automation for user activation was missing

Product & Marketing Team were wasting too much time on creating reports and deeper understanding of in-app user behaviour

GDPR Compliance for websites and in-app platforms
Tracking & Analytics Goals
1. Highly Customized Implementation (for Achieving Specific Tracking Objectives)
During the last quarter of 2018, we implemented a tracking solution in a short period of time for this complex SaaS product that is Reportz. 
"Four Dots Team did a remarkable job of understanding our business needs and guiding us to build a Tracking & Measuring Solution that provided us with actionable insights. The end result is that we now have tools in place that help us measure the ROI of all our testing efforts. Also, we have data that helps us understand the behaviour of our customers." said Nina, Product Manager at Reportz
One of our initial steps was to decouple the Reportz blog from Marketing Website in order to prevent articles from affect trial conversion rates. As Reportz blog articles bring a significant number of monthly sessions, our team decided to analyse Blog in another GA Property. The problem is that this number of sessions on a Blog website renders any other conversion data from the Marketing website useless.
Reportz required an Intercom integration with advanced tracking and custom events and attributes that can be sent to Intercom for the purposes of highly customizable email automation based on the in-app activity of the users.
We also realised that this tool needs a full GDPR-friendly website since Reportz has a substantial amount of European users, so we introduced a custom solution for Cookie Policy that now makes Reportz 100% compliant with the GDPR Regulation.
2. Defining the Right KPIs for Tracking & Reports
The tool was new at the time so it didn't have any tracking in place. There was no in-app tracking, no marketing website tracking, nor within the registration funnel. Now, setting up SaaS tracking properly is not an easy task. Since the majority of SaaS products are SPAs (single-page apps), this effort cannot be reduced to the mere implementation of the Google Analytics snippet to the website's code, which just one of the challenges the Reportz Product Team had to solve when they attempted to implement the tracking themselves. 
Four Dots' Analytics Team developed a SaaS Tracking & Measuring Framework that contains two parts.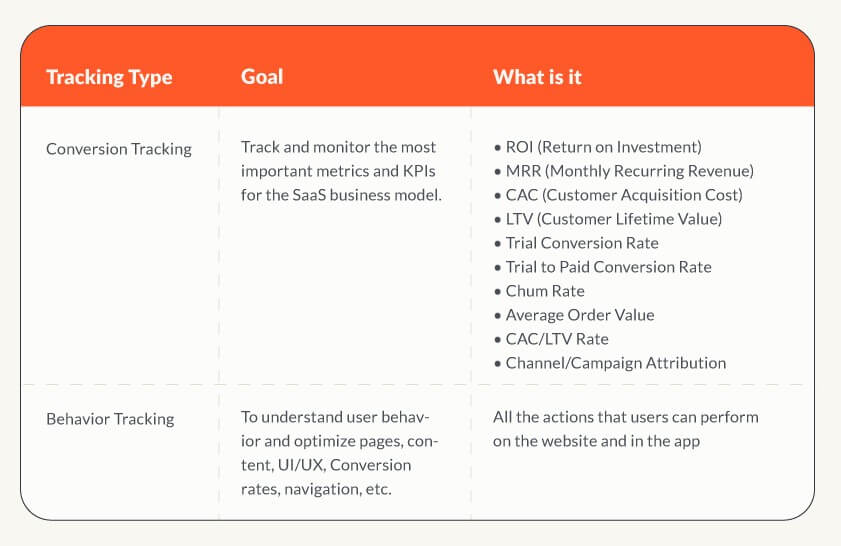 As per Nina, Product Manager at Reportz:
"The level of insight we had after the Tracking implementation phase was incredible. We were able to track an individual new user from their first exposure to our brand all the way through Sign Up and purchase. That level of detail completely removed personal opinions from the decision-making process and empowered us to be data-driven marketers. Now we are using Multi-Channel Funnel which goes beyond the last-click attribution model to give us insight into the full path to conversion over a 30-day period. Now we see each channel's and campaign's contribution to conversions and how all the channels work together to create a sale. Also, Data-driven decisions allow us to scale our growth and skyrocket our MRR."
3. A/B Testing for the Improvement of CRO and UI/UX 
Since Conversion Rate Optimization is not a one-off process but an ongoing procedure, one needs to create and test a substantial backlog of testing hypotheses, otherwise, you are unlikely to reap all the benefits of CRO. To achieve this, you must understand the intent and behaviour of your users, as well as figure out all the bottlenecks they may be when navigating your website/landing pages. 
Our Analytics Team managed to define 60+ testing hypotheses, which helped us create a testing calendar and test them one by one. This type of A/B testing yielded an annual return on investment 20 times the cost.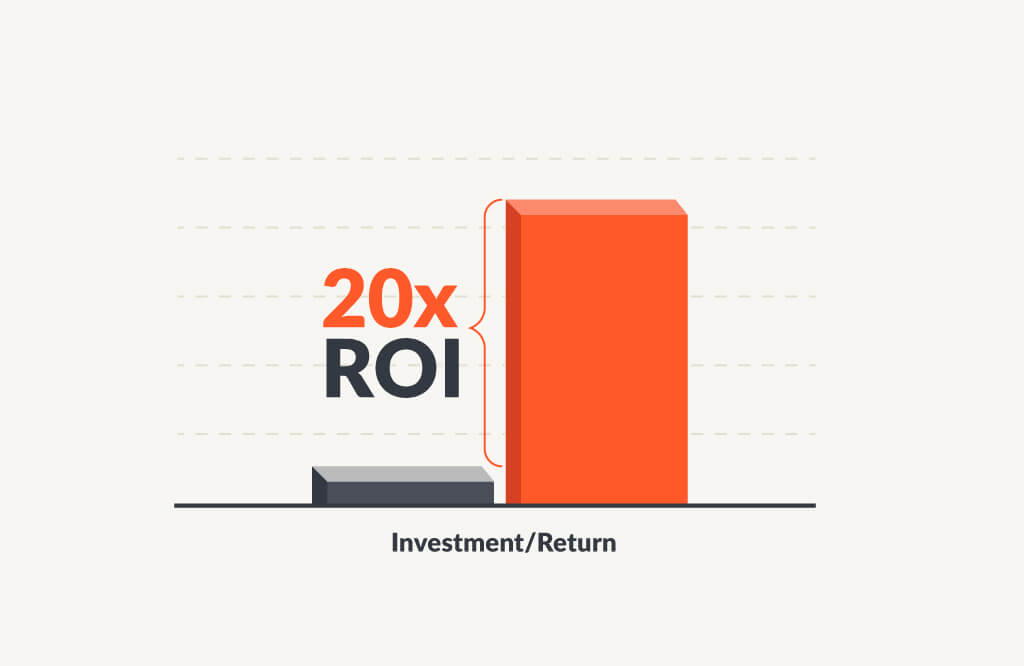 The practice of making it easier for visitors to find what they are looking for is crucial, especially in terms of optimising their journey from the SaaS's homepage to the creation of their very first interactive dashboard within this tool without any (or much) help of customer support. We achieved this goal through A/B testing that helped us improve the onboarding flow by optimising website segments for a better understanding of the platform. 
One particular A/B test resulted in an 83% increase in the Trial conversion rate. To make this possible, we had to change the registration flow that was leading the visitor from the homepage "Free trial" buttons to the pricing and register pages. We did this by simply cutting out the middle step. After this tweak, the user is sent directly to the register page and into the app when they click on the "Free Trial" button. This boosted the conversion rate for trial users from 3.15% to 5.76%.
Why Did This Strategy Work?
As Reportz allows you to get a free trial period without inserting credit card information, the uses were (and still are) able to focus on tool features and report quality instead of the pricing. 
We also performed several tests to try and boost the effectiveness of the landing pages and further improve the conversion rate. CTA personalization was one of them and we changed the CTA copy from "Claim Your Free Trial" to "Start my Free Trial," which increased the conversion rate by 73%.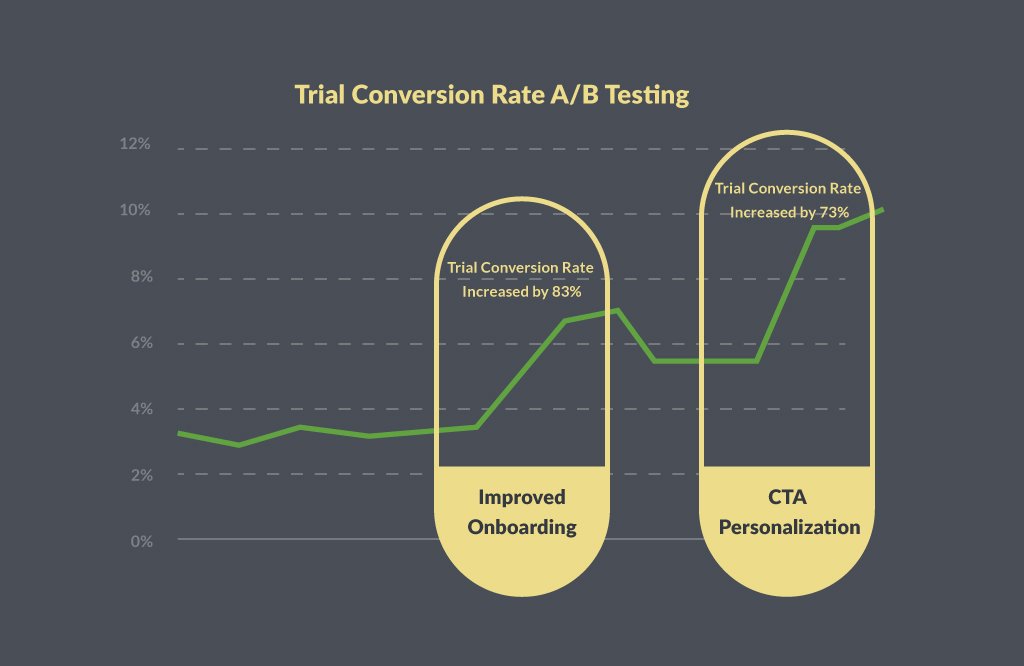 The increase in conversions was among the most critical steps in our strategy. Not only did it provide Reportz with additional revenue through a greater number of leads, but it also enabled Product & Marketing Teams to allocate marketing spending on traffic acquisition more wisely.
4. Creating a User-Friendly, Centralised Tag Management Solution
Our team opted for Google Tag Manager, which sped up tags publication for both the marketing and the product development team. All tag management tasks were centralised with the Four Dots Analytics team as an overseer, resulting in a significant increase in publication frequency of new tags, as well as in increased efficiency and security within the organisation and its partners.
Our overall Tracking Implementation efforts resulted in 140 Tags, 136 Triggers and over 50 Variables. 
The platforms where we track conversions and/or send in-app engagement data, inlcude Google Tag Manager, Google Analytics, Google Ads, Bing Ads, Facebook Pixel, Google Optimize, Amplitude Analytics, Hotjar, Capterra, LinkedIn, Quora, Intercom, etc. Subsequently, our team configured one Web+App property which goes beyond Session-based tracking to User & Events based tracking.
Approach: Tracking, Analytics & Reporting Process & Deliverables by Four Dots
Our strategy for the processes of tracking, analysing and reporting involved several phases. Each of the stages brought benefits for the client.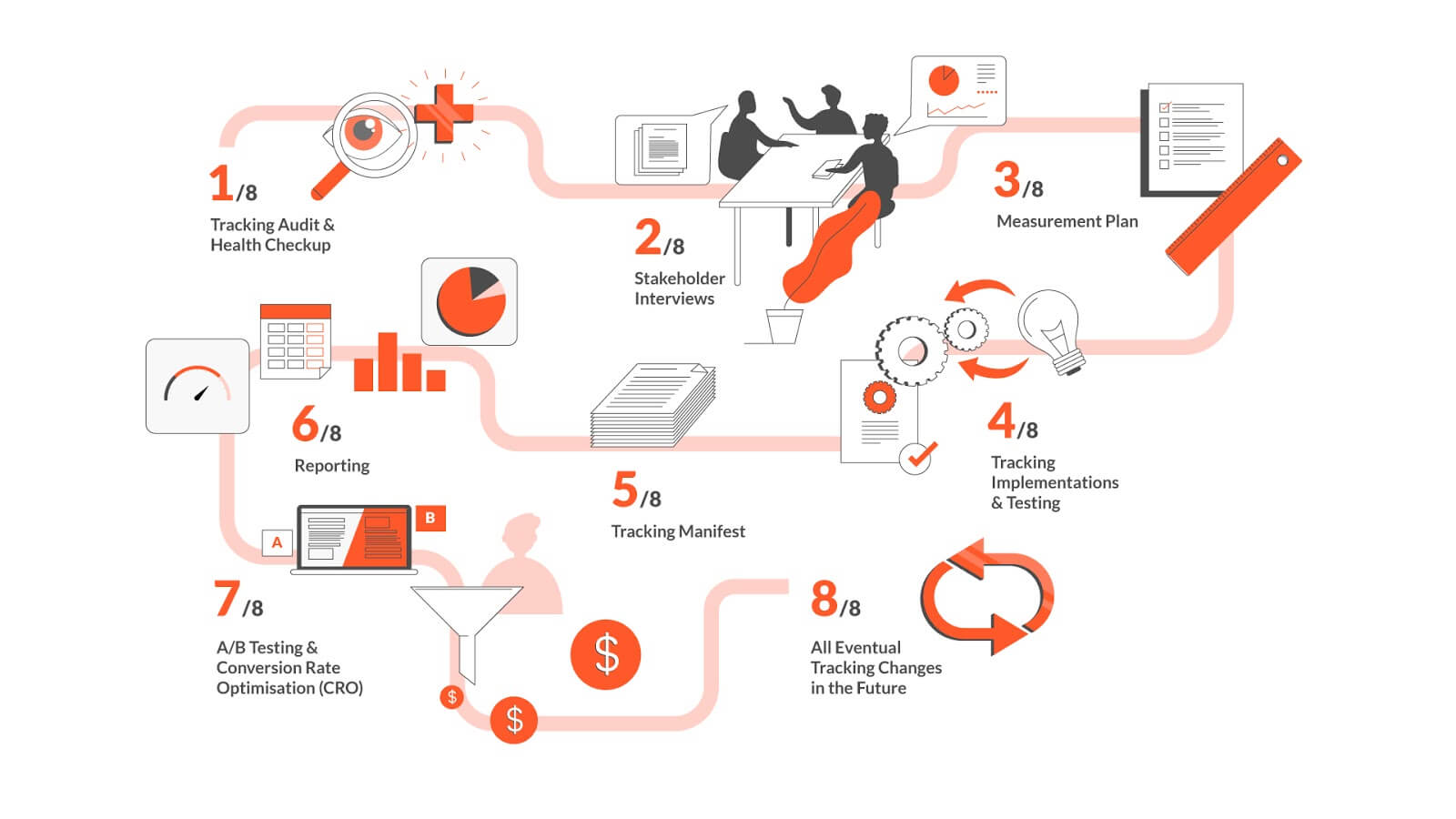 Phase 1: Tracking Audit & Health Checkup
As Reportz didn't have tracking of any kind at the beginning of the campaign, we immediately started analysing both the app and the website. With the app, we focused on all its features and the entire scope of different actions a user can take while using the tool.
Phase 2: Stakeholder Interviews
The team that knows the app the best is the Product Management team, so it was quite important to have productive, neat and streamlined communication with them. In order to leverage the Tracking setup as much as possible, our team had to sit down with their product management team and determine which KPIs would yield the most valuable insights. We also had to plan out the tracking strategy that best suits their needs.
Phase 3: Measurement Plan
Once the first two phases were over we had a much clearer overview of the metrics that needed to be tracked. So, the following stage was developing a comprehensive and effective Measurement Plan, along with coming up with detailed instructions for the process of implementation. 
Phase 4: Tracking Implementation & Testing
Tracking implementation and testing were done via Google Tag Manager through which we could easily implement all the tracking codes in one place. The engagement of their developers was necessary on a couple of occasions, with our Analytics & Technical teams providing them with full support during the entire implementation process. 
Phase 5: Tracking Manifest
Our team prefers documenting all the Tags, Triggers, Variables from Google Tag Manager, so everyone who would with Google Tag Manager container from that moment on could have a clear idea of our overall goals. We created the Tracking Manifest document – a comprehensive overview of the tracking implemented by our Analytics team.
Phase 6: Reporting
Once we started accumulating tangible data, our team created specific reports for all of their stakeholders. The reports contained the KPIs we defined together during the interview phase and were grouped periodically: 
Daily

Monthly

Quarterly

Mid-Annually

Annually
All the aforementioned reports included data from numerous data sources so the Reportz team could get a broader image of all the marketing efforts involved in the project. 
Phase 7: Testing & CRO
Once the initial Tracking Implementation & Testing Phase was over and we set up all conversions the right way, we performed A/B Testing & CRO Services for the client. The testing was done in order to optimise conversion rates for the entire website as well as certain landing pages. 
Phase 8: Potential Tracking Changes in the Future 
Our team provided additional ad-hoc tracking implementations whenever it was necessary (after the Reportz team changed CTAs, when they added new Landing Pages, when new features were added to the app, etc). We made sure that all those changes and additions to the app were followed by our own tweaks in Google Tag Manager. This is a great practice to make sure your data is up-to-date and isn't providing false insights. 
Overall Case Study Results
→ Overall Tracking Implementation led to 140 Tags, 136 Triggers and over 50 Variables. 
→ Removed focus from vanity metrics with developed SaaS Tracking & Measuring Framework.
→ Improved Onboarding Flow by eliminating pain points.
→ Saved 50+ hours on a monthly basis with predefined Daily, Monthly, Quarterly, Mid-Annually, and Annually Reports.
→ A/B testing resulted in an annual return on investment 20 times the cost.
→ CTA Personalization led to a 73% increase in Conversion Rate. 
→ Better Onboarding increased Trial Conversion Rate by 83%. 
→ Implemented Conversion Tracking for all Marketing Assets & Platforms.
→ Implemented Easy & Centralized Tag Management Solution.
→ Complete Intercom Integration & Onboarding Email Automation based on In-App activity.
→ Saved 35+ hours for the Product & Marketing Team through Comprehensive Tracking Manifest Documentation.
→ GDPR-friendly Custom Cookie Policy Solution implementation. 
→ 60+ testing hypotheses for A/B Testing with Schedule & Calendar.
→ Tracking Conversions and/or sending in-app engagement data to Google Tag Manager, Google Analytics, Google Ads, Bing Ads, Facebook Pixel, Google Optimize, Amplitude Analytics, Capterra, LinkedIn, Quora, Intercom, etc.
→ Moving from session-based tracking to user-and-events-based tracking. This was done by configuring Web+App Google Analytics Property. 
→ Implemented complete user journey tracking – from the initial brand exposure to product purchase and user retention.
→ Tracking, Calculating & Reporting SaaS KPIs (ROI, MRR, CAC, LTV, Trial Conversion Rate, Trial to Paid Conversion Rate, Churn Rate, Average Order Value, CAC/LTV Rate, etc).
Conclusion and Additional Tips 
Data-driven decision-making is amongst the critical segments of an effective and scalable growth strategy. Whether it is the growth of your product or your company, the following tips will definitely help you get on the right track: 
Data accuracy is a prerequisite for any successful campaign 
Without accurate data, your marketing campaign isn't likely to yield the best possible results, which is why the quality of your data collection process is crucial. Countless times have we witnessed companies that have been tracking inaccurate data for months, even years, which led to extremely suboptimal marketing campaigns. Just think about how many wasted resources false data must have caused. This is why making decisions based on accurate and complete data is paramount.
Figure out which metrics are paramount and focus on those 
As we mentioned above, the process of decision-making shouldn't be based on vanity metrics. It's more important to focus on user actions that benefit your business the most. For that purpose, create a comprehensive measurement plan that helps you understand the user journey from the first touchpoint and brand interaction to Conversions, Purchases & Retention. 
KPI Reporting that suits the needs of your stakeholders
Identify all the SaaS KPIs such as ROI, MRR, CAC, LTV, Trial Conversion Rate, Trial to Paid Conversion Rate, Average Order Value, Churn Rate, CAC/LTV Rate, etc – as these influence the company bottom line the most. The level of detail in your reports should be tailored to the Stakeholders. For example, C-Level Stakeholders should get general reports that provide an overview and a broader picture of all marketing efforts, while reports for marketing and product teams should cover more detailed data with advanced breakdowns that provide additional insights.
And remember, always strive to design your measurement plan and the entire tracking implementation process based on client needs and be sure to devote your know-how and efforts to client success.