the insight
Latest from the blog
Categories
Recent Articles
Search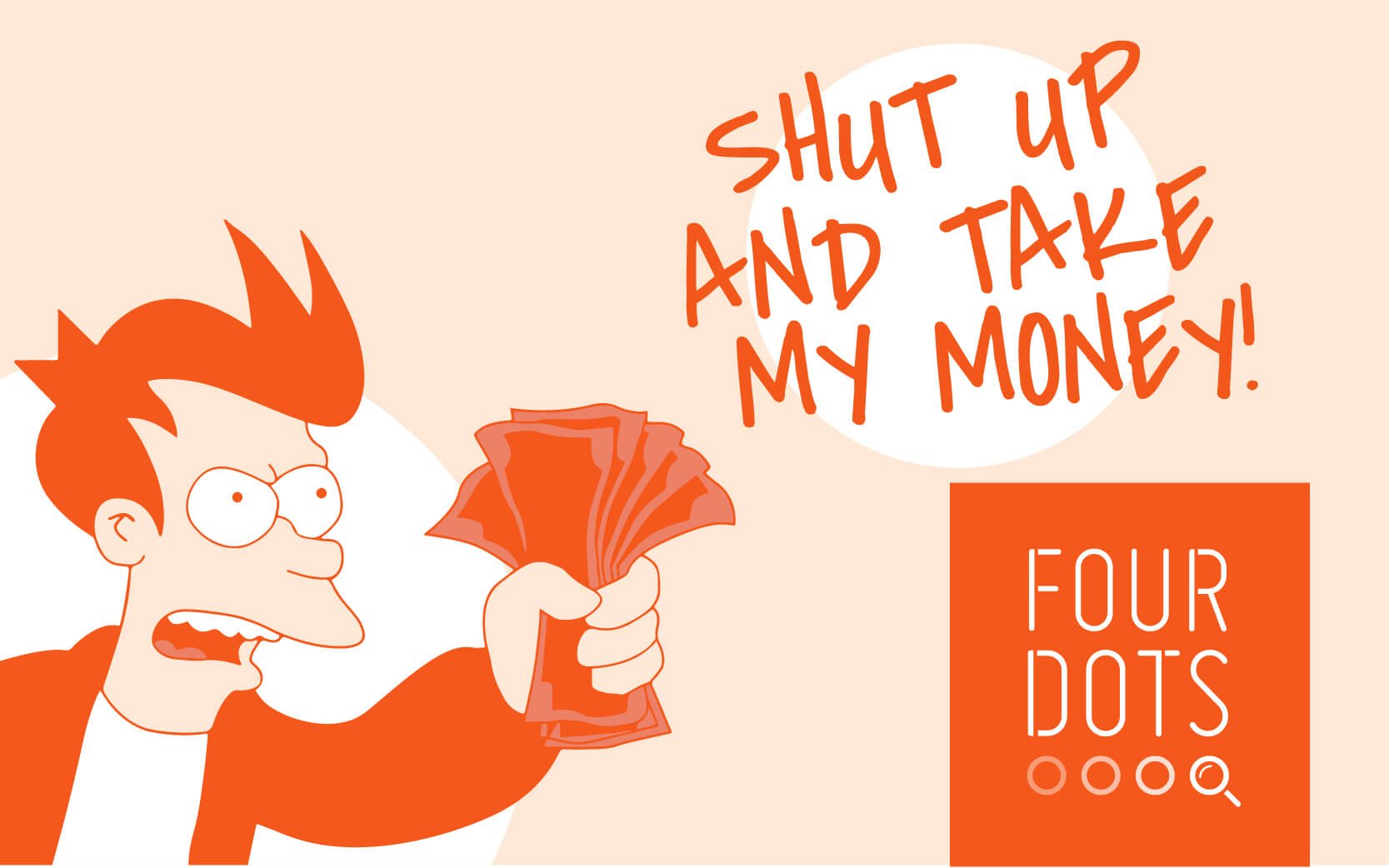 A Guide to Creating Content Strategy that Influences Every Stage of Your Sales Funnel
You know the meme: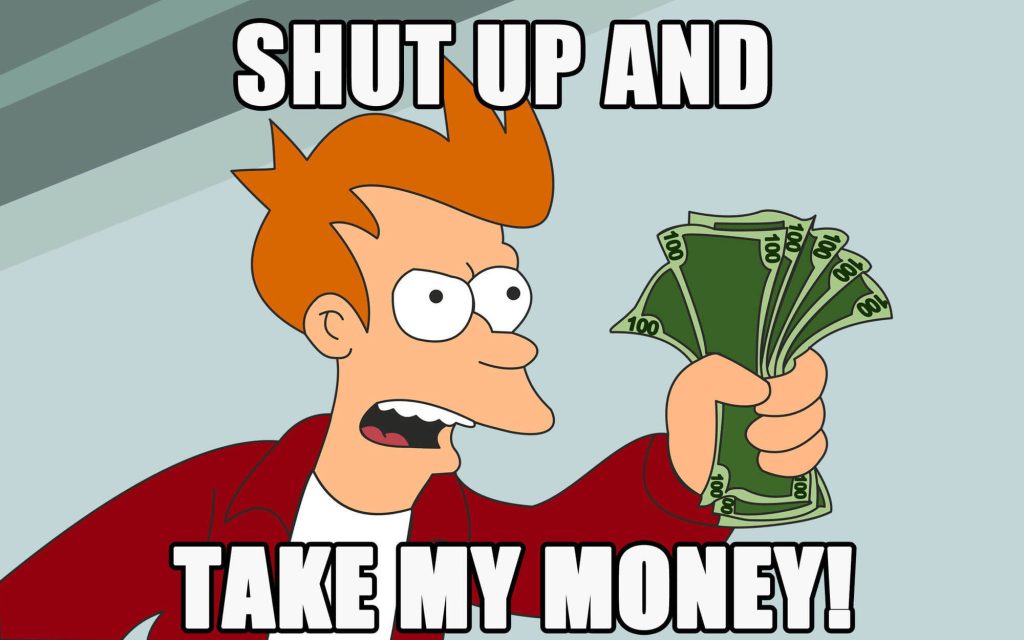 Perfect, isn't it?!
Regardless of what you do or sell online, one of your top business goals is always to attract this type of customer.
Why is that? – Well, this is the archetype of an ideal shopper/client/customer.
The picture says it all.
Even though it's mostly used as a joke, when you really sit down and look at it from all sorts of different angles – you'll see that this is undoubtedly the image of a completely satisfied customer.
It conjures up a clear image in everyone's mind, of a guy who is literally blown away with the deal that's being presented to him.
This is what everybody wants. Everyone loves a happy customer. Both salesmen and shoppers. There's no question about it.
Why? – Because both parties are winners in this scenario.
That's why we have decided here at Four Dots to set this image as one of our goals. Especially in the content marketing department. We want to create something that generates this level of excitement, so we have invested a lot of thought into designing a strategy that will take us there.
In this post, we're going to teach you how to reach The Fry. We're going to share our method on how to generate this level of interest from your users, by adding a smart content strategy to your already existent marketing processes:
The Search for the Ultimately Satisfied Customer
It's clear as daylight – every single entrepreneur, business and marketer dreams about transforming their regular, cold leads into raging fans and customers, like Philip J. Fry here.
They all wish to impress their target audience to such an extent, that they literally start throwing money at them!
Even though getting people to go bananas over our brand, products and services is something that every single one of us desires – it's important to have in mind that this isn't really an easy task to accomplish.
A lot of people fail miserably.
Why is that? – There are literally thousands of different reasons, but the most prominent of all are:
This is where content marketing comes to shine.
All of you who follow our blog know that we have already talked about the importance of designing effective customer personas and creating content that ignites an actual conversation with your customers.
Yes, we're referring to the famous human-oriented approach post here. However, that was only the first part in our general content strategy. In this text, we're going to expand on that idea and take you deeper into our process!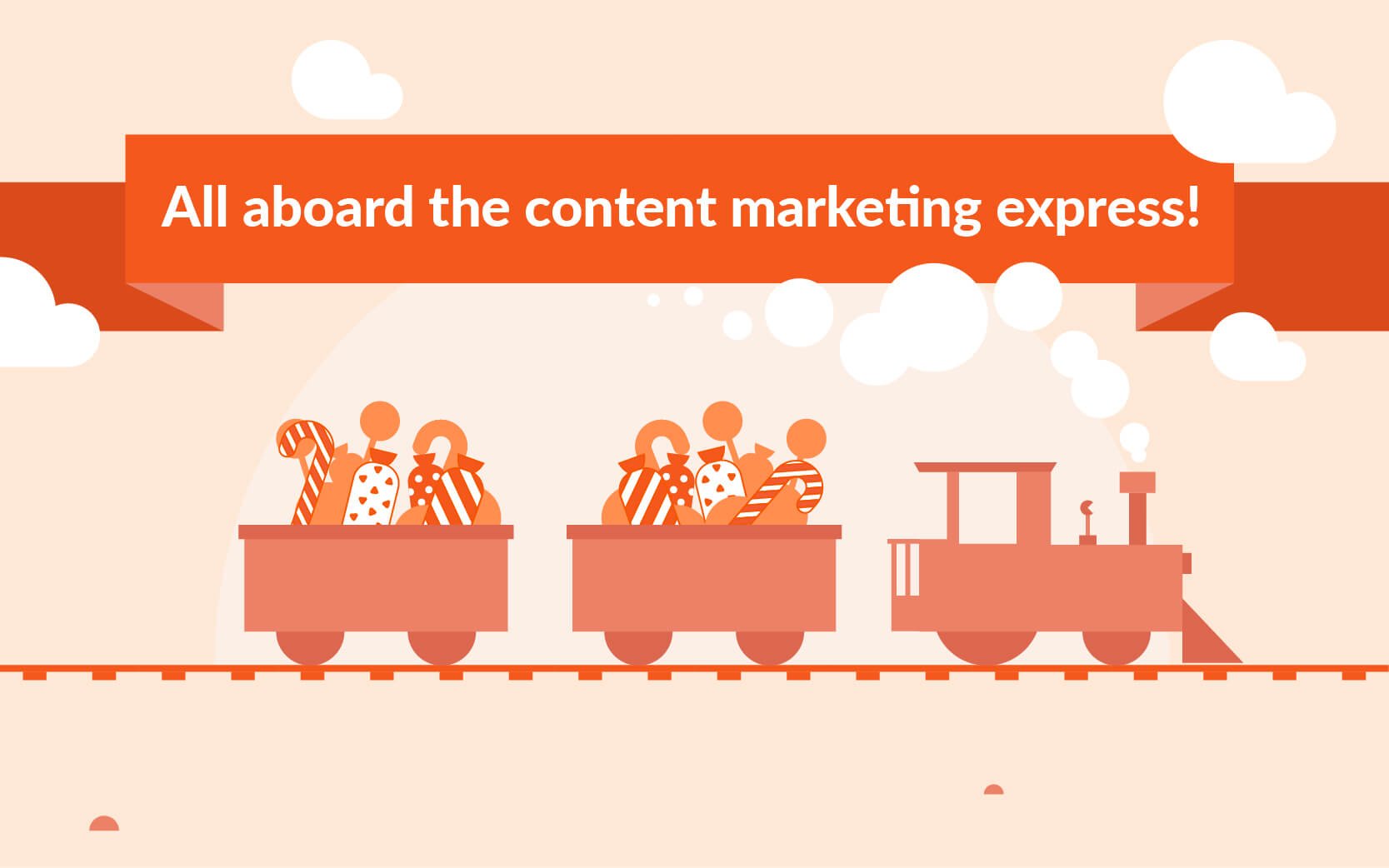 All Aboard the Content Marketing Gravy Train!
Content marketing was HUGE in 2016. And judging by everything that's currently going on in digital marketing and its evolution over the recent decades – it's going to get bigger. A LOT bigger.
Just like Mario when he pops that bad-ass mushroom!
But, again – why is that?!
Well, there will always be value in content marketing. It's not going to go away. Content marketing may change a bit over time or evolve into something slightly different – but there will always be a need for educating your audience and feeding them all sorts of different information that's created with the purpose of establishing a deeper, more profound connection with your brand.
Don't believe us?! – Just watch!
The guys at Curata claim that in 2016, 51% of all B2B buyers used content as a guide for making B2B purchasing decisions. Apart from that, the results of this particular survey also point out that 95% of B2B buyers said they are willing to consider vendor-related content as trustworthy.
This All Sounds Great – But How Does One Exactly Use Content Marketing to Turn their Regular, Unmotivated Leads into Philip J. Frys?
By developing a smart content strategy that actually influences your target crowd throughout every stage of your sales funnel.
You have to be smart.
You cannot really pour all your efforts into one big blog post and expect to sky-rocket your sales.
No. It doesn't really work like that. You cannot just write that one big, fat, informative article and ask your users to read your content, like your page, sign up for your newsletter, tell their mom you're awesome, and immediately buy everything on your website.
Nope. Not really an option.
Content marketing is an exhausting game, and it requires you to choose your battles and take time to actually win over your customers. If you want to win big here, you need to focus all your energy on crafting material that actually solves problems for your crowd.
Apart from that, you also need to dig in deeper and do everything in your power to set up a strategy that efficiently streamlines this process and amplifies your work.
As a brand interested in generating tons of new sales in 2017, it's your job to be omnipresent online. You need to keep chasing your customers with content that convinces and converts even the coldest of leads. In order to do that, you cannot just sit down, write a piece of content, share it on all your social media profiles and wait for a miracle. Nope. You need to invest in its actual distribution and figure out alternative ways on how to spike interest in your work.
It's of crucial importance that you continually survey your target audience, design buyer personas that are actual built on more than just basic details about your shoppers, and add them to proper case formulas. After that, you need to optimize your content, reach out to wherever there's a chance your material might add some additional value and grab some new customers, monitor your bounce rates, etc.
As you probably know, content is an important piece of any sales process, but in order for it to work, marketers must cater to their buyers' preferences by producing readily-available, cross-channel material that buyers can access on their terms, to aid them in the decision-making process.
That's why, apart from vividly describing your ideas and values through your content, you must focus on creating compelling materials that actually speak to your potential customers in every stage of this process.
In order to drive more sales and make your users scream "Shut up and make my money!" as loud as they possibly can, your content must be created for 3 different purposes.
1. Top of the Funnel: The "Who Goes There?" Stage
The "awareness" stage focuses on developing content that has only one purpose in mind and that is to charm your target audience.
It's all about making a great first impression.

Awareness content should generate some genuine interest in your brand.
Your job is to establish that first contact and get people to acknowledge your existence. Apart from that, it's also important to get your leads to remember your style, your mission in business and accept you as a relevant source in your niche or industry.
There are a lot of examples of great brand awareness content out there. Personally, I really love what Rand Fishkin and MOZ are doing in this department. Mr. Fishkin's amazing blog is doing wonders for his business. By producing all sorts of interesting videos that cover some of the most popular subject in his industry, Rand has managed to turn his blog into a real lead magnet. And not just that, he has actually managed to develop a community of experts that selflessly share their knowledge and expertise on his site. This has naturally helped Mr. Fishkin build his authority online and make MOZ an industry leader when it comes to learning about SEO and digital marketing.
Even though this sounds quite easy, in order for this particular type of content to work, you need to make sure that it stimulates a deeper curiosity for your brand, products and services. It's not enough for people to remember your name and website address.
No. The crucial part of your strategy should be focused on helping your target crowd see you as a website or business that's worth revisiting on a daily, weekly, and monthly basis.
So, who's your target here? – Basically all kinds of people looking for answers, resources, education, research data, opinions, and insight.
The types of content that usually work well in this stage are blog posts, webinars, guides, ultimate lists, how-to articles, videos, infographics, etc.
2. Middle of the Funnel: The Research and Consideration Stage
In this part of the funnel you focus on turning your newly-acquired leads into actual customers. The research and consideration stage is all about the people who are doing heavy research on whether or not they should actually do business with you.
They are looking for any type of information that could tell them if your products or services are worth their money. This stage is basically all about stating your case and forcing the people who now frequently re-visit your site to see what's really going on there.
Your mission in this stage is to create some urgency and help your potential buyers recognize all the value behind your business. You need to show them what separates your from your competitors.
How can you do that? – By publishing all sorts of different testimonials, success stories, detailed pricing information, advanced guides and support information, white papers aimed towards decision-makers, comparisons and targeted case studies that showcase how you have helped someone achieve their goals.
Focus on proving your concept. Nothing will be more persuasive for your targeted potential shoppers than content that actually promises and showcases success.
3. The Final Phase: Decision time, a.k.a The Big, Fat Sell
If you've done everything right in the previous two stages, then this is where the "Shut up and take my money" moment happens.
This "Big, fat sell" stage is where you capture your leads in your funnel. It's where people figure out exactly what kind of customer they want to be. Are they interested in, for example, a beginner or a premium package. Do they want to start small, and then work their way up to a more serious deal; or are they willing to immediately go for the whole shebang.
The important thing is that they're actually ready to buy, but something is still holding them back. They need a little push. It's your job to anticipate their desires and immediately provide them with options that will help your leads easily transition into sales. This is where things such as free trials, compelling call-to-actions and data sheets tend to do the trick.
Once you accomplish all that, once you finally generate a sale, it's time to focus all your energy on retaining these customers. It's always easier to sell your products and services to people who are already familiar with your brand and the quality of your work. That's why developing a proper customer retention and brand loyalty strategy should be on top of everyone's priority list. There are numerous tactics that could help you increase your customer lifetime value and loyalty. The things that usually do the trick are success stories, exclusive offers, special mentions in your content. Focus on quality, not quantity, when it comes to producing your content, monitoring its performance and help your audience achieve something that they love, etc.
Thank you for taking some time out of your busy day to read this article. I hope it has helped you understand how to fully communicate your value to your customers and set up an effective content marketing strategy that will smoothly guide them through your entire sales process.